내용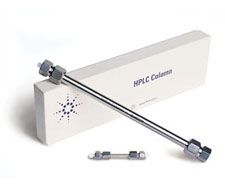 ZORBAX 300StableBond
◈ Product Information
ZORBAX 300StableBond columns are an ideal choice for the reproducible separations of proteins and peptides for two key reasons. First, wide-pore, 300Å columns are necessary for an efficient separation of proteins and peptides, or other large molecules, in order to allow these analytes to completely access the bonded phase. Second, 300StableBond columns are unmatched in their durability at low pH, such as with the TFA containing mobile phases typically used for protein and peptide separations. For LC/MS separations at low pH, 300StableBond columns can also be used with formic acid and acetic acid mobile phase modifiers.
Zorbax 300StableBond columns are available in four different bonded phases (C18, C8, C3, and CN) for selectivity and recovery optimization of proteins and polypeptides.
To further increase sample recovery and improve efficiency for difficult proteins, 300StableBond columns can be used up to 80-90°C. 300SB-C18 and 300SB-C8 columns are an ideal choice for complex protein and protein digest separations.
These columns are available in capillary (0.3, 0.5 mm ID) and nano (0.075 and 0.10 mm ID) dimensions for reversed-phase LC/MS separations of these protein digests. These capillary and nano columns can be used for either 1-D or 2-D proteomics separations.
► Point
- Four different bonded phases for reversed-phase selectivity optimization of peptides and proteins
- Exceptional stability and long lifetime at low pH with TFA containing mobile phases
- Excellent reproducibility
- Available in capillary and nano column dimensions for proteomics and other LC/MS applications
► Specification
| | | | | | | |
| --- | --- | --- | --- | --- | --- | --- |
| Bonded Phase | Pore Size | Surface Area | Temp. Limits* | pH Range* | End capped | Carbon Load |
| ZORBAX 300SB-C18 | 300A | 45 m²/g | 90°C | 1.0 -8.0 | No | 2.8% |
| ZORBAX 300SB-C8 | 300A | 45 m²/g | 80°C | 1.0 -8.0 | No | 1.5% |
| ZORBAX 300SB-C3 | 300A | 45 m²/g | 80°C | 1.0 -8.0 | No | 1.1% |
| ZORBAX 300SB-CN | 300A | 45 m²/g | 80°C | 1.0 -8.0 | No | 1.2% |